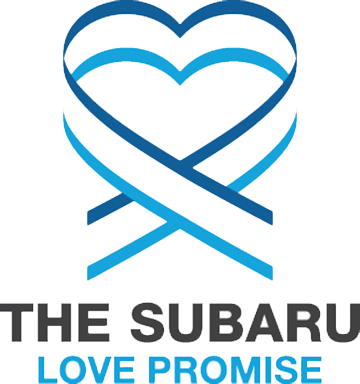 What is the Subaru Love Promise?
Subaru and our retailers believe in making the world a better place and the Subaru Love Promise is our vision of respecting all people. This is our commitment to show love and respect to our customers and to work to make a positive impact in the world.
How is Star Subaru dedicated locally to the Love Promise?
Our Love Promise can be seen in various partnerships with local charities and non-profits. We're grateful for the opportunity, not only to be a part of our community, but to serve it as well.
Love Promise Stories from Star Subaru
Subaru and Star Subaru believe in making a positive impact on the communities in which we live and work. We uphold that belief through our Love Promise Community Commitment. Every month, we select inspiring stories from customers and partners from around our area who strive to support our collective commitment and feature them here
Clark Gable, a true underdog, adopted and adored! - For Our Friends Inc F
For Our Friends rescues many senior dogs from local shelters. When we learned of a dog the shelter named "Curly" and estimated he was 14 years old, we knew we had to help him. He was at Manhattan ACC, all matted and so very sad. We rushed to get him and bring him into our care. We named him Clark Gable, since we thought he was just the most handsome guy ever! Clark was clearly a super senior, with impaired hearing and vision. He was such a love from the minute we got him. The poor guy came down with the shelter cold aka kennel cough and was so sick! But he fought back and healed well with our care. He needed a good grooming, dental work, neuter, echocardiogram and heart meds, and we did it all for him. And yes, a wonderful woman who wanted a kind and loving senior to spoil and adore decided she wanted to make Clark hers! We are so happy that this super senior boy now has his happily ever after, and continues to do well and is so very loved. Thanks to Subaru's grant we are able to help dogs like Clark, who needed extra special care and medical attention.
---
SUBARU LOVES TO HELP - Franklin Women's Shelter - Christopher R
December 8th, 2020 Dear Star Subaru, On behalf of the Franklin Womens Assessment Shelter, we want to express our great appreciation and thank you for the wonderful blankets that you donated for the women of our shelter. The women were overjoyed by the blankets and continue to express their gratitude of appreciation. To thank you adequately is impossible. We hope you also gained personal satisfaction in helping to brighten the day of the homeless women. The compassion you showed to the women we serve is an inspiration for us all. With Gratitude and Thanks, Christopher Rose Executive Director
---
Subaru Helped Us Save Senior Dogs In Need - Jacqueline C
For Our Friends is a 501c3 based in Queens and Long Island, and focuses most of its rescue efforts on saving seniors abandoned in shelters and those heading to shelters. Senior rescues require more medical care, so as you can imagine, the medical bills are high. We saved Ruby (senior pomeranian) and Peluche (senior shih tzu mix), a wonderful bonded pair, from our city's shelter. Their mom had passed away and they were now in metal cages and separate from each other at the shelter, waiting to be adopted. It's very rare to have a double adoption at a shelter, and so, when we saw their sweet faces we knew we had to help them. They both needed some medical care, especially Ruby, since she has a heart murmur. The donation by Subaru helps us help these kinds of dogs, who so deserve a second chance. Ruby and Peluche proved to be just as wonderful as we imagined they were. Ruby is the party girl, loves everyone. Peluche is more the quiet, reserved type. They were clearly bonded - when, at their first vet appointment, one would leave the room, the other whined and watched the door and became so excited when the other returned. They even slept curled into each other on their foster home. Wonderful news for this bonded senior pair - a retired and incredibly devoted couple saw them on our Facebook page and knew they had to adopt them. We are over the moon happy for all of them! Thank you Subaru for helping us help pets in need like Ruby and Peluche! -Jackie, President of For Our Friends
---
Star Subaru Shares the Love & the Bounty - ELIJA - Debora T
Thanks to the incredible generosity of Star Subaru and Subaru of America's 2019 Share the Love Event, ELIJA Farm was ready on June 13 to offer 91 families the first of their 16 weeks of community supported agriculture shares. We were even able to continue proving young adults affected by autism the opportunity to stay engaged during the COVID-19 health crisis.The Farm is a place where people with autism and other disabilities are taught vocational, life and social skills, readying them to live and work independently within their communities. It is also a place for the community to share in the lives of these young adults, while literally sharing in the bounty of their work, through their seasonal agriculture share offerings. In mid-March, due to COVID-19 shut-downs, the Farm like many other organizations, was forced to "re-invent" our operations in the face of severely reduced funding amid serious health concerns. Thanks to the amazing financial support from the Subaru Share the Love Event, we did not skip a beat! Farmers were equipped with personal protective equipment to ensure that our spring/summer season was not lost. Our other programming continued remotely, with meditation, cooking, baking, and now producing labels for the community shares weekly distribution.The Farm logo, the ELIJA tree, is a biblical representation of a place of respite and renewal, and thanks to the generosity of Star Subaru and Subaru of America, we continue to be just that – a place of respite and renewal to young adults with special needs and their communities!
---
August 2nd, 2019 - NYU Langone Visit - Monica J
On Friday, August 2nd, the New York City Chapter and the Star Subaru team had the pleasure of delivering 80 blankets and 50 arts & craft kits to NYU Langone – Perlmutter Cancer Center as part of the Subaru Loves To Care program. These comforting gifts were accompanied by personalized messages of hope written by the customers and staff of Star Subaru team.During the visit, we walked around the infusion center and gave out blankets to every patient treated in the infusion center at the time. We also visited faculty practices on the third floor where we gave some of the blankets out to patients who were scheduled for follow up MD appointments. It was so wonderful to see appreciation and surprise in patients' and staff's eyes. This incredible act of generosity was warmly received by the NYU Langone – Perlmutter Cancer Center staff who were thrilled to distribute these comforting gifts to their patients. One of our hospital contacts shared her appreciation with us after the visit. She mentioned how much of a pleasure it was to meet the LLS team along with the Subaru team. She shared that one of the patients mentioned that she almost didn't want to open her package because it looked so nice. Another patient became tearful as they talked about Subaru and LLS's thoughtfulness. That day marked this patients' last chemotherapy treatment – she said the gift came at the right time because it gave her strength to take on another challenge, which is surgery. Some additional patients appreciated these blankets even more knowing the infusion center was "well air-conditioned".The hospital selected a number of patients who, they know, have children and/or grandchildren. Those patients received arts and crafts kits to give to their loved ones. Our hospital contact shared that a few days later one of them mentioned that their grandkids were excited to receive their own little gifts. They spent a Saturday afternoon with grandma and grandpa drawing pictures and coloring. The hospital contact sent a note after the visit stating: "words cannot express how appreciative we are of your and Subaru's compassion and kindness. Thank you for choosing us and thank you for helping us make our patients feel better."This was such an incredible experience and we are so proud to partner with Subaru to spread hope, love and warmth to those fighting cancer, across the country and right here in the New York City community.
---
Star Subaru Spreads Love and Warmth to Patients - Michelle S
Thanks to the generosity of Star Subaru in Bayside and the New York City Chapter of the Leukemia & Lymphoma Society (LLS), the holidays came in July for patients and team members at the Perlmutter Cancer Center—Lake Success infusion center, along with patients of the 15 NYU Langone Faculty Group Practice (FGP) oncologists co-located within the facility and a NYU Langone pediatric practice that is housed at the site. As part of the national Subaru Loves to Care program that launched in 2016, the health-focused initiative of the Subaru's philanthropic platform, LLS and Subaru retailers across the country have joined forces to deliver blankets, messages of hope and arts and crafts kits to thousands of patients in hundreds of U.S. hospitals. On July 18, NYU Langone patients were the benefactors of this impactful program when representatives from Star Subaru and LLS delivered 80 blankets – the approximate number of patients the Lake Success center sees each day – to patients onsite for treatment at the infusion center and the adjacent NYU Langone medical practices. In addition to the blankets, each patient also received carrying bags for their goodies and printed well wishes from local Subaru customers and employees. Additionally, Star Subaru donated a number of craft projects and toys for delivery to children as the adjacent NYU Langone pediatric practice. "The patients were so surprised and receptive to receiving the blankets and notes. They all seemed genuinely touched by the gesture and really appeared to love the intimacy of the hand delivery. What I noticed most were all of the smiles that we saw as we wheeled the cart around and delivered the surprises," said Susan Riveiro, RN, BSN, OCN, assistant director of Oncology Regional Programs, Long Island. "It was especially gratifying to be part of this initiative because we were recognizing our patients, which is why we're here and why we do what we do. After everything was handed out, you could feel how the morale of the whole unit had lifted from patients to staff and even the volunteers. We were truly honored to have our site chosen and to have the opportunity to be involved in such a special event." With an emphasis on comforting and warming those who need it most, the Star Subaru and LLS team members who spearheaded the project set out to identify a site where they could personally show their support to neighbors and fellow community members who are battling cancer. With Bayside in Queens located just a few miles from Lake Success in Long Island, they quickly landed on Perlmutter Cancer Center—Lake Success as the perfect fit. – Courtesy of NYU Langone Health's Inside Health News
---